Buds Auto Inc. has been doing business with us since 2007.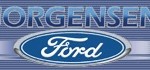 They are good people who do great work. Have seen many of their finished vehicles and they look great! They have brought some of them in for inspections after they're done to make sure everything is operating properly and they usually are because of the work they do and attention to detail.
I am very pleased that they have chose Jorgensen Ford for all their Ford needs !!!!
Tim Slesinski
Jorgensen Ford - Parts Manager
Did you have a good experience with us?
Please CLICK HERE to write down a review. We will be happy to display your writing.